Through ARL's unique partnership with Letco Medical, our laboratory provides testing services to compounding pharmacies at substantial discounts of up to 15% off standard rates.
You can unlock even more savings with store credits from Letco based on your lab spend with ARL.
Letco and ARL have combined resources to develop the Quality Savings Program (QSP), helping pharmacies take full advantage of compounding as a profit center.  Through our partnership, active Letco customers are eligible for discounts on testing conducted by ARL at our state-of-the-art laboratories.  Spending at ARL can also qualify customers for store credit from Letco.
As a preferred Letco partner for lab service needs, ARL supports the quality commitment made to compounding customers every day.  Together, Letco and ARL have the expertise and resources to provide fast and cost-efficient formulation support and pharmaceutical analysis, from API sourcing to product testing.
QSP Tiers and Thresholds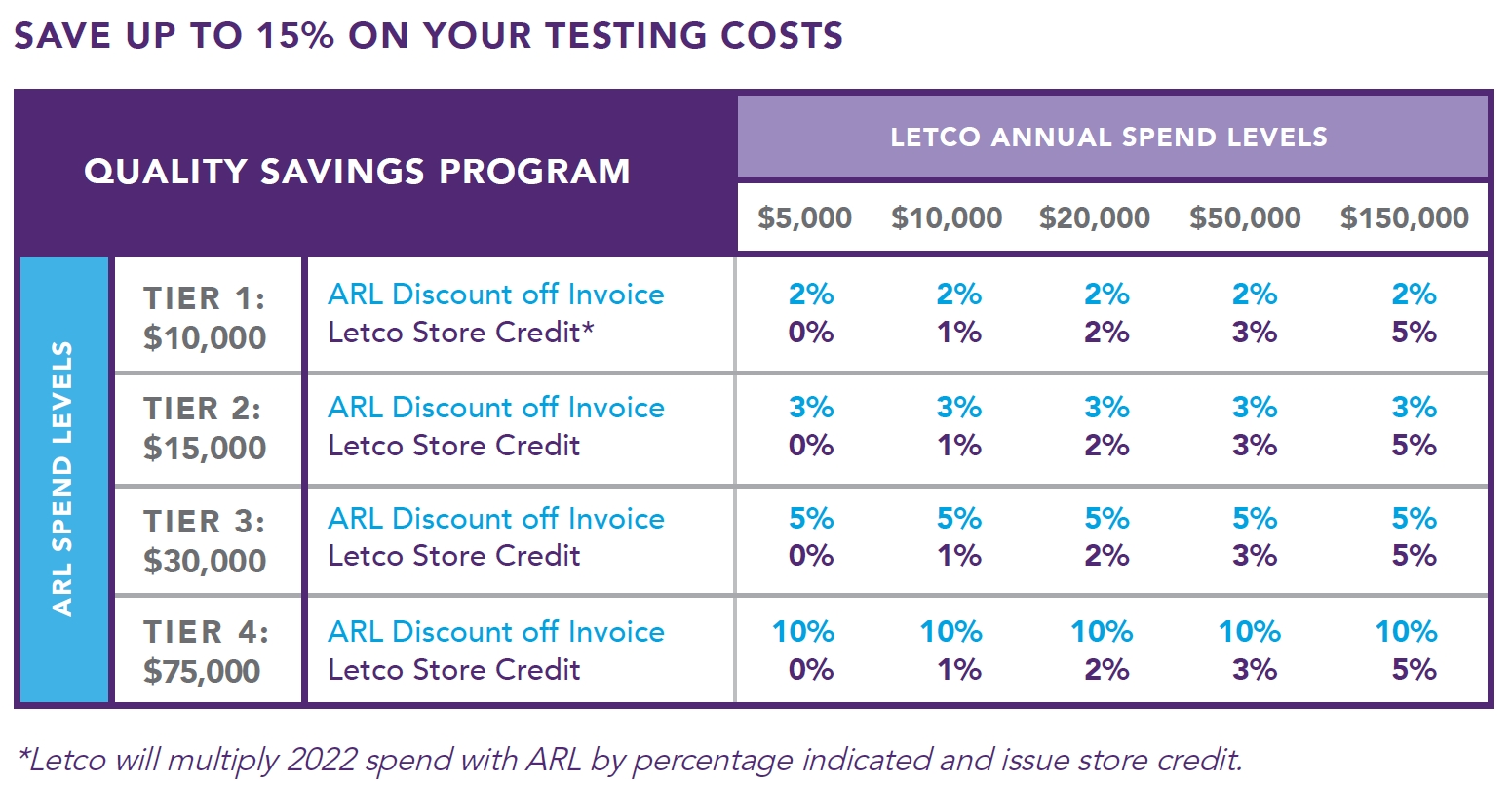 How to Claim Discounts and Rebates
Here's how to take advantage of discounted pricing on ARL's lab services:
You may already be eligible for a discount! Spend at least $5,000 in Letco purchases during a six-month period to qualify for the Tier 1 ARL discount.
To become eligible for an additional rebate, spend a minimum of $10,000 with Letco during the calendar year.
If you're eligible, you can  retrieve your electronic Eligibility Certificate through Letco's website when logged into your Letco account. Save the Eligibility Certificate and provide it to ARL to enroll in the discount program.
Discounts will be applied to your ARL invoices once services have been performed. Your discount level will be reviewed annually and adjusted as needed, based on your projected annual spend.
If you qualify for a store credit from Letco, it will be applied to your account in January of each calendar year once Letco has calculated the prior year's total spend.

Check Your Eligibility and Enroll
See if your pharmacy is already eligible for ARL lab testing discounts and Letco rebates on API chemicals and compounding supplies through our Quality Savings Program.
Quality Savings Program Terms and Conditions
Contact ARL at 800-393-1595 or info@arlok.com for questions about the Quality Savings Program.