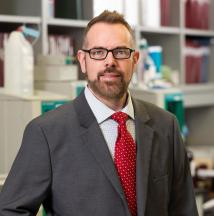 Aaron Thompson
Aaron Thompson is the Forensic & Technology Leader at ARL Bio Pharma. He manages all forensic cases at ARL, services/maintains all of the analytical instrumentation and performs LC/GC - MS. His prior professional experience includes 8 years at FLIR Systems where he developed portable ion trap mass spectrometer and fluorescent polymer based technologies for detection of explosives and chemical warfare agents. 
Aaron has several publications on micro-gas chromatography systems for detection of explosive vapors, patents on GC sampling devices and MS identification algorithms, and has previously partnered with Cayman Chemicals for development of a mass spectral database for designer and emerging drugs of abuse including substituted cathinones, phenethylamines and synthetic cannabinoids. 
He also worked for two years as an analytical toxicologist at Oklahoma State University. Aaron holds an MS degree in Chemistry from The University of Tulsa and a BS in Psychology/Chemistry from Mount Allison University.