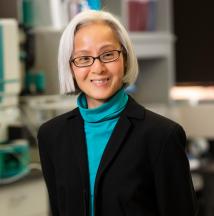 Dr. Nicole Vu
Dr. Nicole Vu is the Scientific Director for ARL Bio Pharma and it's sister company DNA Solutions. She is focused on ensuring the science and technology that both companies utilize is of the highest quality. Before joining the team in 2004, Dr. Vu spent over a decade with the Federal Aviation Administration in the Forensic Toxicology and Bioaeronautical Sciences Research Laboratory where she served as a Research Chemist and later as Team Leader to conduct research in Aviation Toxicology and Toxicogenomics.
Her professional experiences also includes appointments as Specialist in Immunohematology at OU Medical Center, and adjunct professor in Forensic Serology at the University of Central Oklahoma.
Dr. Vu is affiliated with various professional organizations including American Association of Pharmaceutical Scientists, and is an active member of Institutional Biosafety Committee at OU Health Sciences Center.
Dr. Vu educational credentials include a bachelor's degree in Biology and Chemistry from The University of the Ozarks, a bachelor's degree in Medical Technology from Arkansas State University and a bachelor's degree in Pharmacy from The University of Oklahoma, Health Sciences Center. Dr. Vu has also received a Ph.D. in Pharmaceutical Sciences from The College of Pharmacy at the University of Oklahoma, Health Sciences Center. She currently serves as a graduate faculty member at the OU Health Sciences Center and has adjunct teaching appointments at OU College of Pharmacy.