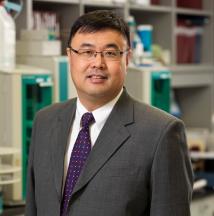 Dr. Qiang Liu
Qiang Liu is the Associate Scientific Director and Research and Development Laboratory Supervisor for ARL Bio Pharma. Dr. Liu received his Ph.D. in Analytical Chemistry from North Carolina State University.
Before joining ARL, he developed and commercialized a high resolution mass spectrometry platform for biomarker discovery at the R&D department of Metabolon Inc. His professional experiences also include Drug Metabolism and Pharmacokinetic (DMPK), bioanalysis in drug discovery and development, imaging, proteomics and metabolomics during his appointment at Consortium for Parasitic Drug Development and University of North Carolina at Chapel Hill.
Dr. Liu has published twelve peer-reviewed research articles and book chapters in the fields of mass spectrometry, biological imaging and drug development. He is affiliated with various professional organizations including American Association of Pharmaceutical Scientists (AAPS), and American Society for Mass Spectrometry (ASMS).