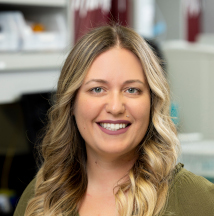 Jessica Munson
Jessica Munson is the Analytical Supervisor for ARL Bio Pharma. Jessica received her M.S. degree in Forensic Science from The University of Central Oklahoma, following completion of her undergraduate studies at St. Gregory's University.
Jessica has 7+ years of experience in analytical research and development. Prior to joining ARL, she worked for FLIR systems where she commercialized fluorescent polymer based technologies for detection of explosives and chemical warfare agents.  She further participated in extensive GC-MS and HPLC based projects for characterization of accelerated explosive degradation products.
In her role at ARL BioPharma, Jessica previously served as project manager for a variety of pharmaceutical clients and was engaged in method development & validation for both stability testing of pharmaceutical preparations, in addition to chromatographic purity.