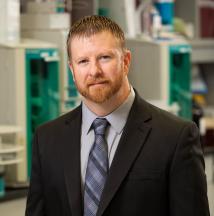 Tommy Means
Tommy Means is the Quality Manager for ARL Bio Pharma (ARL) and DNA Solutions Inc. He is focused on ensuring that Quality Systems for both companies are functional and operational. This includes ISO, FDA, USP, DEA, EPA & AABB compliance and regulations.
Tommy's professional background includes work in Gas Chromatography, Project Management, Quality Control / Quality Assurance and Vendor Auditing. Tommy is a member of the American Society of Quality, The Institute of Validation Technology & American Association of Blood Banks.
Prior to joining ARL and DNA, Tommy was part of the Research and Development team of Brown and Williamson Tobacco Company. Tommy received his Bachelor's degree in Chemistry from Northwestern Oklahoma State University.